What's On at The Platform
1)
Choose event
2)
Choose performance
3)
Choose seats
4)
Select tickets
5)
Complete sale
If you need help with your booking, please call the box office on 01524 582803 or email platformboxoffice@lancaster.gov.uk.
November 2018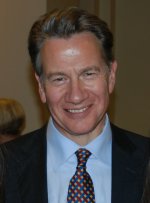 It took Michael Portillo little more than 10 years to get a seat in the Commons and then rise in power and esteem to a point where he was a favoured leader of his party and possible future PM. Since leaving the house almost a decade ago Michael has endeared himself to many with his obvious respect for solid workmanship as found in our great Victorian Railways and the daily life of ordinary hard working citizens. Listen to his story, told with a "parliamentary stand-up" wit, and then feel free to question him about it.
Date:
12 Nov 2018
At:
7:30

PM
---
Live at Lancaster Town Hall. Mountain biking superstar Steve Peat tells the story of his illustrious racing career; the bikes, the world cups, the parties and the pursuit of the seemingly elusive World Championship title which some thought might never come!
Date:
12 Nov 2018
At:
7:30

PM
Venue:
Lancaster Town Hall - The Ashton Hall